'Wake Up the Energy Field!'
By Allen Bush
Showman, designer, and mobile gardener Simple lets go another wonderland before an audience of plant experts, among them seedsman-writer-fan Allen Bush.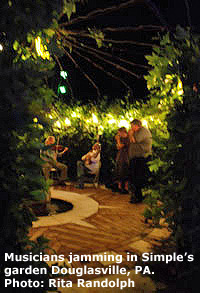 I am impressed by those who love their gardens. I like all sorts and have shamelessly cribbed from many. I admire English gardens - especially in England - and am still trying to figure-out what a native garden can be (having planted dozens of Kentucky native species.)
My favorite gardens are kindly tended though not always thoroughly weeded. They run the gamut from fussy to messy. I confess to a fondness for plants, though in some gardens they are scarce. Few are design originals….
A few weeks ago, my next door neighbor brought over Shocking Beauty, a book written by Thomas Hobbs, the author and garden-center owner from Vancouver, Canada. There are colorful plant combinations in dazzling garden photos from Mt. Cuba in Delaware to Mount Stewart in Northern Ireland. This leads to Hobbs's own inspired garden, surrounding his 1930s Mission Revival-style home. Toward the end he writes about an occasional epiphany, "Being overwhelmed by what you see (in gardens) is an experience that does not happen very often." He adds, "Gardening without fear means taking risks that saner heads would never contemplate."
…another way of saying, a garden should be fun. Simple's is FUN!
Though Simple's gardens have not become fodder for a coffee table book, I'd lay down a twenty and bet Hobbs would be impressed.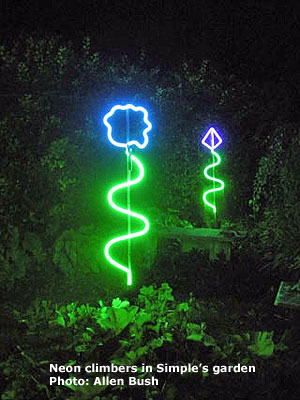 Hobbs's and Simple's wonderful gardens are like night and day but when it comes to Simple's: nighttime is the right time. Shine a light on his gardening, and it's going to be neon - in shades of green, blue or red (You thought neon was for tavern beer signs?).
Last month the Perennial Plant Association held its twenty-sixth annual symposium in Philadelphia. It wasn't possible for all 700 attendees to come to a garden so small, so Simple put together his own incomparable evening tour. He hired a bus for fifty friends - a payload of gardeners, designers, breeders, writers, nursery owners, plant geeks and seed industry savants.
We had been treated the day before to tours of The Scott Arboretum at Swarthmore College, Longwood Gardens, and Chanticleer. The Scott Arboretum sets a benchmark for university plantings. Their exquisite collection of trees, shrubs and herbaceous plantings is rich in breadth and quality. I'm always enchanted when I walk through the legendary Longwood Gardens. They are groomed and lavish. Chanticleer is extraordinary. There is a wealth of gardening talent here, unmatched anywhere else in public gardens.
But odds are that a spontaneous music jam featuring a violin, two harmonicas and an autoharp hasn't happened in any of these gardens. And none has a Mongolian-style yurt fashioned out of espaliered sycamores, festooned with Christmas lighting.
Nor will you find huge bamboo clumps interplanted with tall, red neon tubes anywhere else. The sound system—twenty strategically placed indoor and outdoor speakers, some in the tree tops—is uniquely Simple's, too. (The bones of this elaborate system are hidden in a tiny closet. Simple now prefers recorded natural sounds – waterfalls, crickets, and morning birds – that "slap you into the jungle." It's a pared down version of his "previous life" (garden) where five separate stereo systems could be turned-on individually to Wilson Pickett and remotely switched to Wagner when you rounded the corner.)
Our host and tour guide this evening, Simple was dressed in an outfit that bumped the Porter Wagoner look up a notch or three, into the blinking neon realm.
He loaded us on the bus and readied us for the evening with lift-off instructions: "Why not!!!… Wake-up the energy field… Something will never happen again."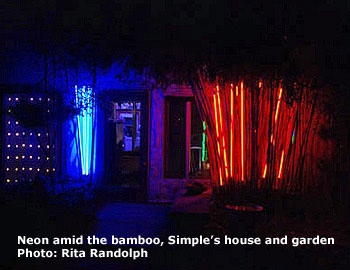 This was Simple at his best: fun-loving showman and creative genius. It's not always easy to understand the message, but easy-as-pie to love the ride.
As we rolled away from the hotel, he plugged in a zany self-styled 1989 video of his previous garden in Honeybrook, PA, one he abandoned after a 1991 divorce.
He held a party for that farewell, too. Guests from the gardening and botanic world came from around the country to see his exquisite topiaries, Trompe l'oeils, garden gags and water features. He sold many of the topiaries, which now grow in gardens from Long Island to Chicago. A few years later, he buried what was left.
These are happier times.
Simple is spending more time with his partner, the equally talented gardener and nurseryman Michael Bowell, who hosted us this evening for dinner in his own wonderful garden as we made our way. Simple isn't selling his place, an old gas station near Douglasville, but has rented it out as a yoga studio; soon he'll let his garden go and sell the current neon art inventory.
So, this was a bittersweet evening. Simple was saying goodbye to another "space in time"—as he refers to every garden. He began this one in 1998, and it has been hitched to an end point: nothing lasts forever. All our gardens will end-up some scraggly mess sooner or later.
Still, you just can't "let go" of a garden the same way a bird nurtures her young and kicks them off the nest. It won't fly. There is a trace of ambivalence. Simple's ready for "another chapter," but admits he might not let go of this garden altogether. Simple's not worried. Come what may. He works anywhere. (He has created gardens across North America and Europe.) There are endless possibilities for new gardens – his or anyone else's.
He gets around in a practical pick-up and drives a sporty 1990s vintage Chrysler LeBaron convertible for fun. The old V.W. bus, colorfully painted with "Simple the Roving Garden" on the side, took him coast to coast for years but sits idle in a shed.
On long trips highway patrolmen were attracted to the wild-looking bus and would regularly pull him over. There were never any tickets or arrests but there was a lot of confusion about his name. "Why don't you have another name?" they asked.
Nothing is as simple as it seems. Simple, in name alone, is "Simple" – legally.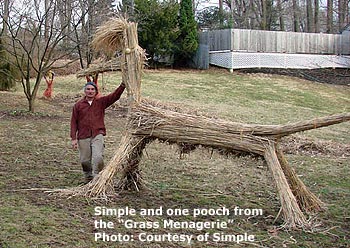 It seems his "next chapter" – post-neon—will be producing a "Grass Menagerie." He is creating installations of sculptured ornamental grasses wherever he goes. Figures of cats, dogs and tall people are sometimes spray painted. He loves teaching and sharing his horticultural art and enjoys working collaboratively with a clientele who know what they want but sometimes can't explain it. His extraordinary gift allows him to interpret space brilliantly, in the blink of an eye.
We boarded the bus at eleven o'clock for the ride back into the city. Simple was staying behind and told us what we had seen was, "the way it was and never will be again… Thank you for sharing my dream… Good health."
---
return to about simple