The following article appeared in the Daily Local News, West Chester, Pennsylvania, on Monday September 24, 2001
Simple life expressed with green mediums
Text and images by Danna Cornick
(Special to the Daily Local News)
His name is Simple, a reflection of his belief in living simply and in harmony with nature. From the first minute you meet him, you know this is not your usual Chester County farm boy. His bright hazel eyes twinkle irrepressibly beneath thick dark brows that match his mustache. A dark complexion, large gold earring, multi-colored beret and matching tee-shirt add to his "bohemian" image. He is, he says, a roving-horticultural artist, a creator of garden illusions, and, indeed, to experience his work is to enter into fantasy.
Using topiary, espalier, trellises and trompe l'oeil, Simple creates garden spaces filled with unusual plants and playful sculptures, creations that have won numerous prizes and have been featured in major gardening books and magazines in the United States and Great Britain.
It's difficult to describe with words what Simple does with gardens, partly because what he does is often so skillfully wrought that you are not aware the landscape has been "created." Rocks seem to have always been in that particular spot. Shrubs and ground cover blend in totally natural harmony. Even his metal sculptures appear to have "grown" in their particular spot.
In contrast are the espalier walls of leaves or the tromp l'oeil arches of illusion that are part of his garden rooms. At his studio he is currently growing a circular tree room: it is 20 feet in diameter and its thick, leafy walls are growing from 20 sycamores spaced evenly around its circumference. Now seven feet tall, they are all cuttings from the same tree in Tennessee, chosen for it's whiteness. Forming the roof are single leaders from each tree that emerge from the of the wall at a 22-degree angle and come together at the center where they will be trained into a single trunk.
"My true love is sculpting plants," Simple said. "Lots of times an artist does a piece and it's static. For me it lives on and changes with age. Eventually I'll remove the top and put on a second story, and in about 60 years, they'll be touching trunk to trunk. I got the idea and, liked it. So why not give it a try?"
With his unique approach to landscaping, Simple knows his style does not appeal to everyone: "I'm too far out for some people. But a lot of people don't have the opportunity to be creative because their garden club isn't into it," he said. "I show my clients how to have fun in the garden. I call it 'garden personalizing.' I work with the client to help create a space. They often work with me, hands-on, so they learn the process and the labor that goes into it. It makes my day when a client takes people through the garden and tells them, 'I did this.'"
Simple's designs appeal to the five senses and include sounds from fountains and from hidden loudspeakers and special lighting, as well as fragrances, tastes and tactile sensations. He accomplishes this in often unorthodox ways.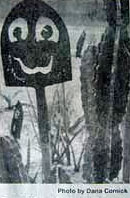 "I've always been on the cutting edge. I've been designing with tropicals from the early '80s: Who else would use bananas instead of impatiens? People pay $20 for a flat of annuals. Why not get a banana tree? I like to have fun with spaces. Make people see differently, from the other side of the brain," he said. "like putting neon in the garden in blues, pinks, pastels and tropical colors. It's a surprise element, hooked up to a motion detector so that when you walk past; it comes on. It's just having fun."
A native of Honey Brook, where he maintains his plant nursery, Simple now works from his studio and gallery in Douglasville.
"I work on different things at different times of the year," he said.
In summer it's mostly gardens. In other seasons it's metal sculptures and his newest interest neon sculpture.
"Neon is my newest way to loose money," he said with a grin. "I use 12-volt DC neon sculptures in garden spaces hooked up to solar panels."
Others of his neon works uniquely combine copper, wood and neon. He's currently developing a free-standing neon fountain.
"This summer a Bucknell student helped me make a prototype. Now I need to analyze it for a while, test it. I have to stand behind it if I install it, or else I can't sleep," he said.
Most gardens Simple designs are for individual homeowners, but you can see some of his whimsical topiary at the Camden Children's Garden adjacent to the New Jersey State Aquarium. Examples of his sculptures as well as the sycamore tree room can be seen at his studio at 1397 E. Main Street in Douglasville. Call 610-404-1760.
---
return to about simple