Mystical, Magical Bus Tour
Page One
Text and Photos: Judy Glattstein

"Simple rented a bus," was the word going around. "We'll go to Michael Bowell's first, and then Simple's, after dark, so we can see the neon." Now, there have always been after-hour forays as part of the Perennial Plant Association annual symposiums. There have even been car pooling efforts, and multiple car caravans. But I don't think there was ever something as grand(iose) as a bus. And I'm not talking about no little 10-passenger mini-van kind of bus either. Nope. This was the same size 45-passenger, restroom in the rear bus that we'd be on for our symposium tours. Heck, the price was right, the people are fun, and the two locations we'd be visiting . . . . well, let's just say I had my money in my hand and was ready to climb aboard. There was beer, there was wine, there were snacks, and there was us, ready for the mystical, magical bus tour.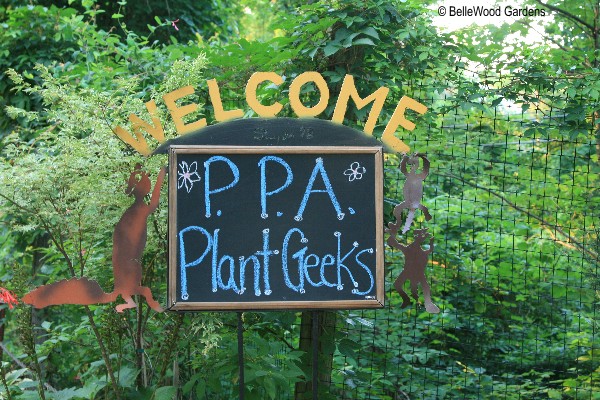 Michael had a welcome sign out for us.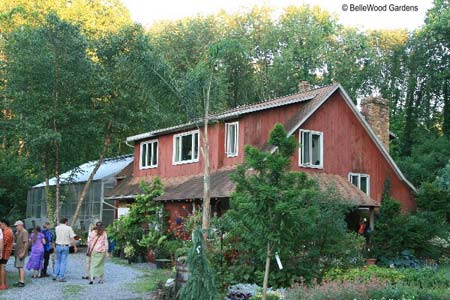 I first visited here many, many years ago. How many? Let's put it this way, Michael had the greenhouse up and operating, but the house was not yet built. Priorities, need your priorities. The plants were well housed and he had a trailer.
Such a nice smile. Such a nice guy. What a great party.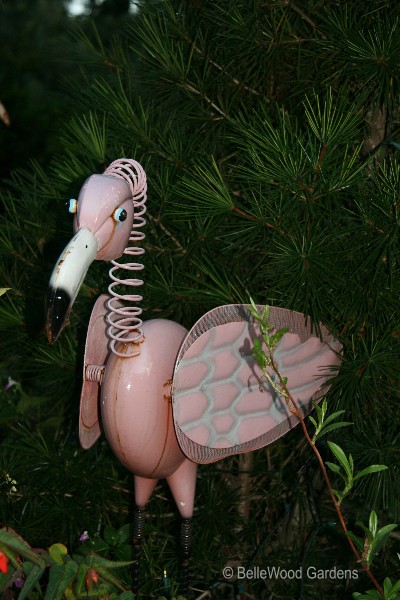 There are secret garden rooms nestled behind trees and shrubs,
little paths, a pond, arbors and gazebos.
And "stuff", like this flirtatious flamingo.


Plant geeks indeed, seed thief, more like it. But hey, Impatiens balfourei, the Himalayan impatiens, makes lots of seed. It's an annual. But surely, couldn't this guy come up with something better than a tissue in which to collect the seed?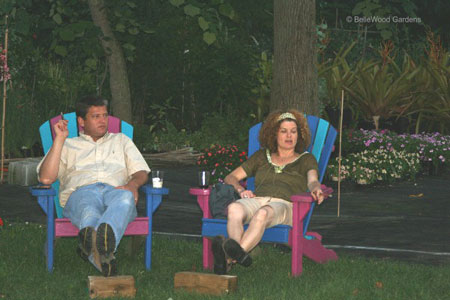 Oh well. Georg Uebelhart and his co-worker Mary Vaananen found a couple of chairs and settled down for a relaxing smoke. Cigarillos. What did you think I meant? They're both at Jelitto, an excellent wholesale source for perennial seeds.
Now it is dark out. We're back on the bus and on our way. Here's Simple with his electrifying neon jacket. See the little green and blue lines on his sweater? They're neon tubes, tiny little, apparently flexible, battery-connected, light up and glow in the dark neon tubes. Is that not like, too cool! And thanks to Rita Randolph, who graciously allowed me to post this image, so much better than mine.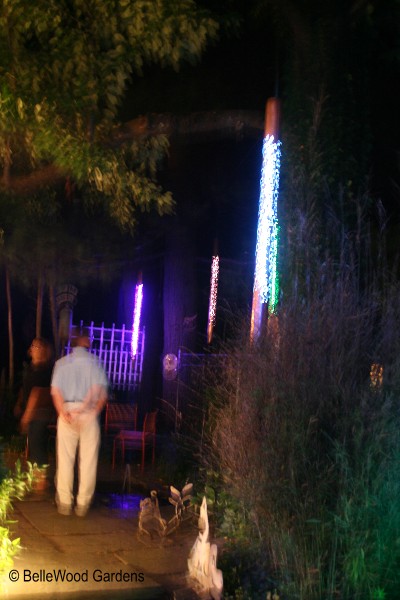 But not as cool as Simple's garden.
Showers and spears of utterly cool light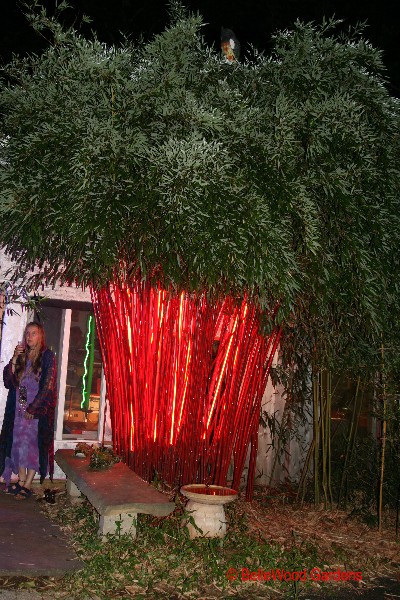 a grove of bamboo with wands of red neon intermixed with the culms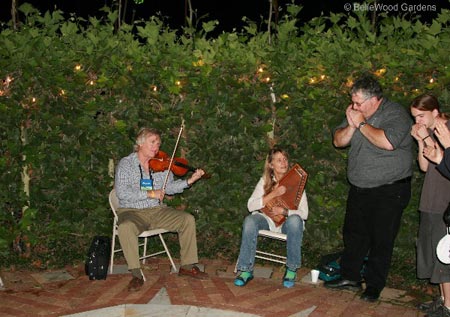 and music, lovely music. Samuel with his fiddle. Charolett and her auto-harp. Dan Heims (maybe you know him as the fascinated with variegations proprietor of Terra Nova Nurseries) on harmonica, along with Dale Hendrick's son on another. Simple built this room, a living yurt of sycamore saplings, the brick floor embellished with a marble compass rose. A small pool in the middle, water bubbling through a millstone, and a flickering flame from a gas jet in the center of that. What a fantastic evening on the mystical, magical bus tour.
---
The preceding article appeared in the Garden Diary for July 2008 (http://bellewood-gardens.com/PPA_2008-07.html), a blog maintained by Judy Glattstein of BelleWood Gardens.
---
For additional photos of this magical evening, click here.
---
return to about simple