about simple
Simple and his roving studio or wheel-a-state. Simple travels around the country with his tools and his two hands to show you his craft of gardening artistry and what he is all about. Simple's craft is his contribution of the five senses to your garden space and his knack for showing you how to have fun in your garden space! -->WHY NOT!<--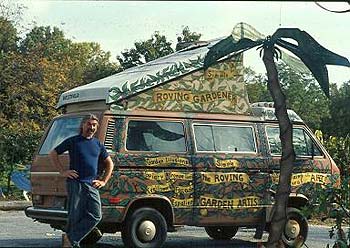 Simple's method combines recycled materials and your personal items and ideas into your garden's spaces. Simple creates spaces in your garden by adding surprise elements: Facades, garden illusions, trompe l'oeil, garden structures, topiaries, espalier in many different styles, treillage, water elements, metal work, and lighting elements, including NEON. Why not!


Simple is not a garden designer per se. More than that he is a garden personalizer and innovator. Better yet, Simple can be your very own personal garden trainer! Simple will work closely with you and your gardeners, providing ideas and instructing you in the use of the right tools to create your garden spaces.The basic concept is to have fun sharing your garden with your family and friends by being Simpelized!
---
For additional articles and blogs about Simple, click on these links: Mystical, Magical Bus Tour; 'Wake Up the Energy Field!'; Green Profit magazine, and the Los Angeles Times magazine article about John Greenlee and Simple.